White Tower (VCD & DVD) (Perfect English Subtitle)

Other Titles : Inside the White Tower, The Great White Tower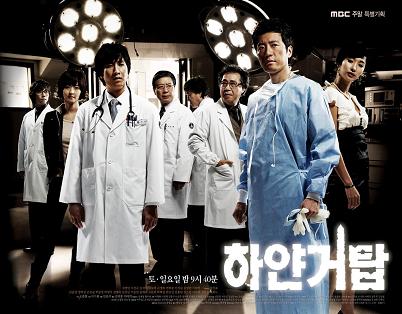 Drama Information :
Casts :
Kim Myung Min (Bad Family, Immortal Lee Soon Shin),
Lee Sun Gyun (Coffee Prince, Loveholic, Thousand Years Love),
Cha In Pyo (Wish Upon a Star),
Song Sun Mi (Secrets Lovers)
Audio :
Korean Audio
Subtitle :
Perfect English Subtitle
Summary :
Based on renowned Japanese novelist Yamazaki Toyoko's representative work, MBC's new drama The Great White Tower, a.k.a. Inside the White Tower, brings viewers deep into the political inner workings of the medical field. Airing around the same time as Surgeon Bong Dal Hee, The Great White Tower is a distinctly different, though equally entertaining breed of medical drama. The series takes a satirical look at malpractice and powerplay at a university hospital, contrasting the paths and personalities of two doctors played by Kim Myung Min (The Immortal Lee Soon Shin) and Lee Seon Gyun (Loveholic). The drama stands out amongst the current wave of lightweight offerings with its intelligent, well-written, and uncompromising story, situating the little known wheeling and dealing of the medical field in a tight and interesting tangle of deception, friendship, and romance. What really goes on inside The Great White Tower? You may not want to know.

Brilliant and ambitious, assistant professor Jang Joon Hyuk (Kim Myung Min) is a rising star in the Myeongin University Hospital surgery department. His knowledge and expertise is undeniable, but his cavalier confidence and cold personality has earned him more than a few enemies including the department head. While Jang's drive stems from a desire for success and advancement, fellow doctor Choi Do Young (Lee Seon Gyun) is committed to the well-being of his patients, leading to frequent clashes with the practices and personnel within the hospital. With the head of the surgery department retiring, Jang seems to be the clear successor until a new rival emerges in the form of Noh Min Guk (Cha In Pyo), who has the backing of the department head. Jang, however, is determined to win at all costs.

In the forty plus years since Yamazaki's original work was published, the groundbreaking novel has been inspiration for both small and big screen works. It was adapted for film in 1966, dramatized by TV Asahi in 1967 and 1990, and dramatized by Fuji TV in 1978 and again in 2003 as the station's big-budget 45th anniversary series. This latest incarnation, perhaps the most stylish version yet, has been a critical hit with Ahn Pan Seok winning Best Producer and Kim Myung Min beating out some very strong competition for the Best Leading Actor statuette at the 43rd Baeksang Awards.