Chuno / Slaver Hunter (DVD) (Exclusive Perfect English Subtitle)

Available in High Quality Widescreen

Other Titles : Pursuing Servants




Drama Information :
Casts :
Jang Hyuk (Robber, Thank You, Bright Girl),
Oh Ji Ho (Queen of Housewives, Fantasy Couple, Single Papa in Love, Get Karl Oh Soo Jung),
Lee Da Hae (My Girl, East of Eden, Hello Miss, Green Rose),
Lee Jong Hyuk (Temptation of an Angel, Rivals, Green Rose, Hello God),
Gong Hyung Jin (Saranghae, Stars Lovers, Dal Ja's Spring)
Genre :
Historical
Audio :
Korean Audio
Subtitle :
Perfect English Subtitle
Summary :
Jang Hyuk (Thank You) stars as a relentless slave hunter in the highly anticipated KBS historical fusion drama Chuno (a.k.a. The Slave Hunters). His target of revenge, a general-turned-slave who brought about his family's fall, is played by Oh Ji Ho (My Wife is a Superwoman), making his costume drama debut. Popular actress Lee Da Hae (East of Eden) completes the triangle as a runaway slave who becomes entangled with both men.

'Slaves fervently wishing to live like a human being' VS 'Slave hunters chasing them tirelessly' A bloody battle between them begins to take place!!!

Being a slave hunter, Dae-gil is disregarded by people due to his low social status. While doing his job, Dae-gil is offered by Lee Gyong-suk to get Song Tae-ha and is promised to be given a fair amount of money as a reward. Tae-ha was forced to become a state slave as he was wrongfully accused of stealing some provisions. After reading a secret message saying the life of So-hyeon's youngest son is on the line, Tae-ha tries to escape in an attempt to save him, the eldest son of the Crown Prince. Daegil, however, gets wind of his plan and the two ends up fighting a bloody fight. Having barely escaped from the fierce fight, Te-ha happens to accompany a woman named Hye-won. Dae-gil fails to track down the slave he was first assigned to capture, and constantly runs into Seol-hwa who escaped from a troupe of strolling actors. To make things worse, Dae-gil is threatened to be killed by a group of slaves who formed a hit squad to assassinate nobles. As for Daegil, he has every reason to be successful in accomplishing his first mission. Aside from recovering his pride hurt by Tae-ha, Dae-gil needs a sizable sum of money to live a comfortable life in his old age. In the end, Tae- ha manages to run away from Dae-gil while Dae-gil feels affection for Hye-won.
Screenshots :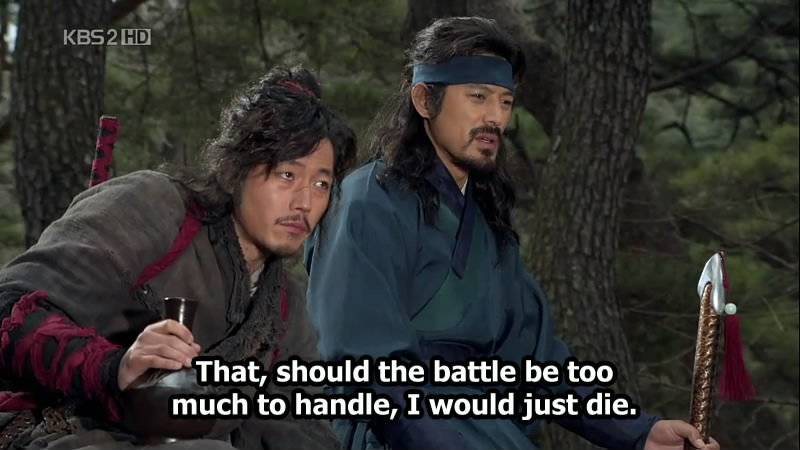 This Series was Arranged & Encoded by GoksDVD.com